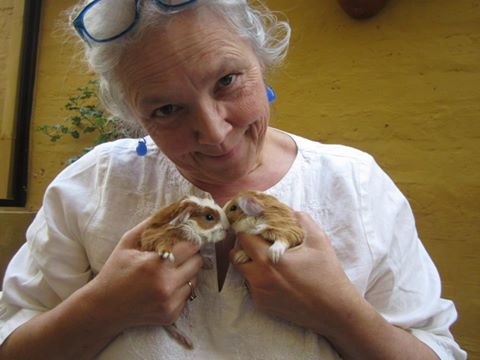 ABOUT FRANNY:
Frances Augusta "Franny" Hogg spent 22 years living and working as a poverty lawyer in Detroit's infamous Cass Corridor, where she wrote a series of mystery novels featuring amateur sleuth, Callie Sadler.  She spent the next decade in New York's Hudson River Valley working as a freelance editor and story coach, and as a horror fiction editor for Dark Moon Books.  In 2012, she and husband Robert Lochow retired to Cuenca, Ecuador.  She divides her time between working as a volunteer teacher at a rural school for disadvantaged children, and writing.
"I have always thought of myself as a mystery writer, primarily.  I enjoy the challenge of developing a strong story with the additional requirement of a puzzle to solve.  I story-coach and write in every genre–I've even published a cookbook for American expats in Ecuador!–but I think I like the short story best.  You have a limited number of words with which to develop memorable characters, grab the imaginations of your readers and take them on a journey that results in a satisfying conclusion.  I haven't tried science-fiction writing yet," she says.  "But maybe I'll give that a go, next."
Franny is a prize-winning playwright, and poet.  She is co-author the book, "Writing Group in a Box" with Áine Ní Cheallaigh, that provides advice about forming a writing group, and using writing prompts to create flash-fiction, and techniques for self-editing.