Day One-A Tour of the City
Robert and I decided to take advantage of a summer lull in activities (our Spanish teacher is taking a special training course in Chile to become certified as a translator of legal documents and I have stepped away from the Cuenca International Writers Conference until the new folks who have taken over get their heads together…) to see more of South America. Our good friend Anna Powell is staying in Medellín, Colombia, for a month so we decided to visit with her.
Medellín is the second-biggest city in Colombia, with about 2.5 million people. It has an attractive climate and, like Cuenca, a low cost of living for expats. Robert found a nice guesthouse for us to stay and researched stuff to do and buy. It all seemed very affordable until we checked out air fare on Avianca–we ended up spending just about what it would cost for us to fly to the US!  (We could have taken a cheaper airline called Viva Colombia but that would have required us to spend nights in Bogota, and we didn't want to add days to our trip. Or, we could have taken a 28-hour bus trip for only about $100…) It didn't help matters that we decided to travel in between two three-day weekends.
In any event, the flights were fine, and our hotel (61 Prada Guesthouse–highly recommended!) had a taxi driver waiting for us at the airport. Super easy. About $24.00 for the one-hour taxi ride through lush greenery, into the city.
We found Medellín to be busy, clean, and not expensive. Our comfortable hotel, with a king-sized bed, cost $33 a night, and our Filet Mignon dinner in the in-house restaurant was $8!  The food was so good that we ate there for almost every meal.
Robert had booked a walking tour of the city through City Tours. It took about four hours, and was free (though tips were gladly received, and we paid about $15.) It is extremely popular, and you have to make reservations the night before.  What a good job they did!  We felt we received an unvarnished history of the city, with honest explanations of the very complicated political situation that resulted in more than a decade of terror, murder and kidnappings, and the rise of drug cartels.  It is a reputation that the city is still fighting to erase.
Several times during the tour our English-speaking guide, Maribel, was approached by people on the street who asked her help to address us.  Maribel had warned us in advance that this would happen.  They all wanted to thank us for coming to Colombia, and ask us to come back again with our families, and to tell other people that Medellín is a nice and safe city to visit. (OK! OK! I'm doing that!) It was kind of cool that the people are so proud that they were able to solve their serious social issues.  Maybe WE can brag about that someday…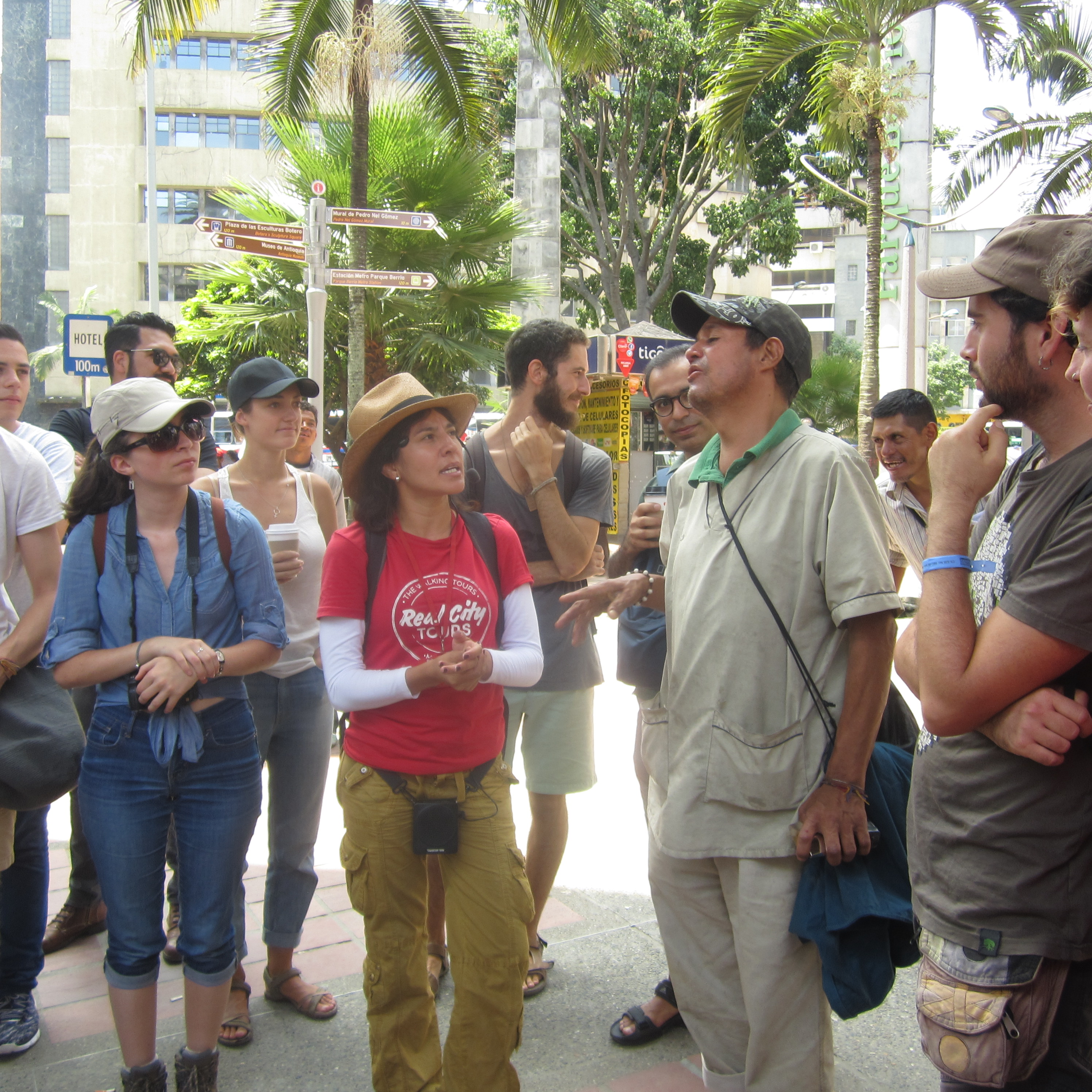 Maribel translates a bystander's heartfelt welcome.
We had a lunch break near Botero Park, where I had a FABULOUS EMPANADA. Best fifty-cent lunch, ever!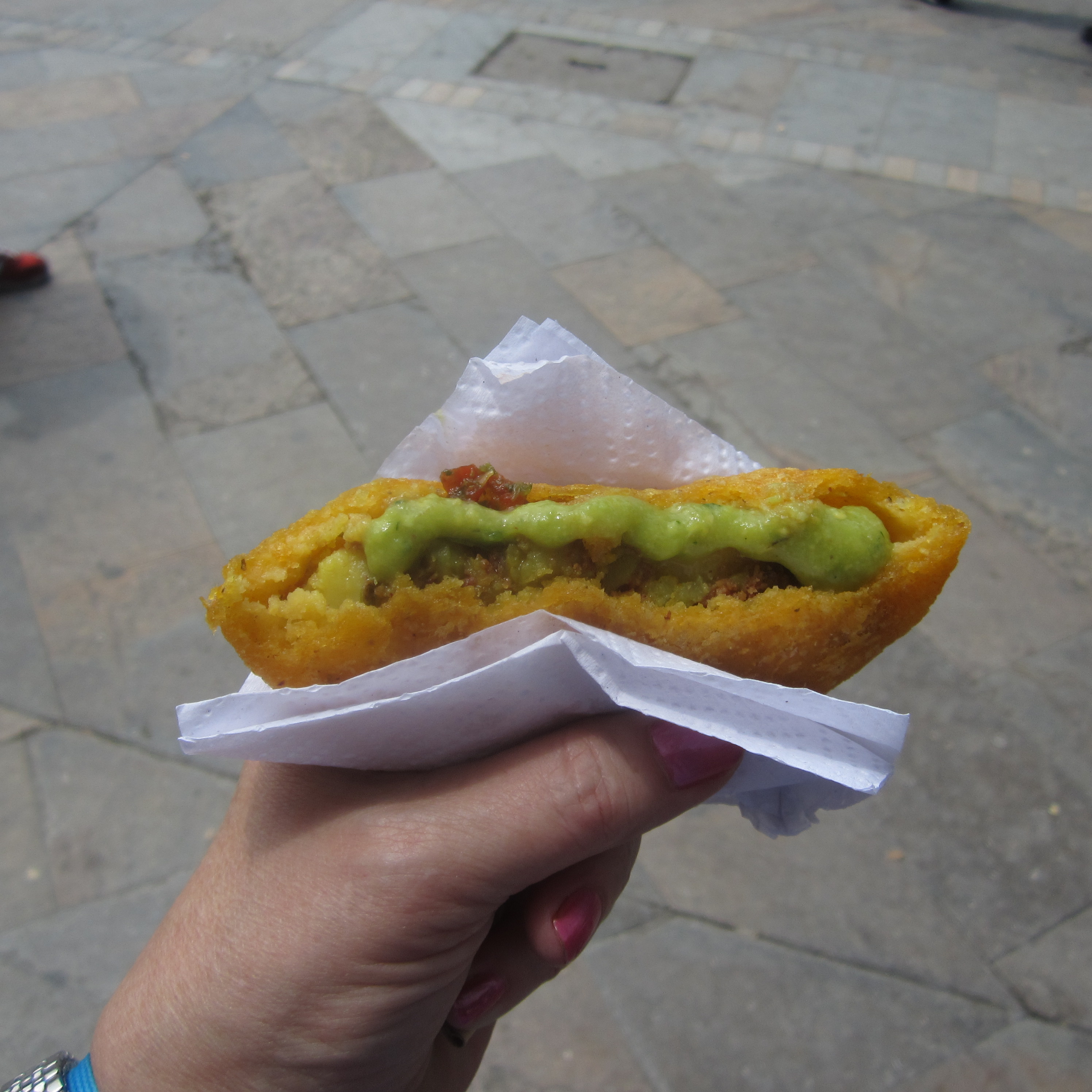 The coffee is also fabulous. We grow it in Ecuador, too, but it seems the best of it gets exported.  In Colombia, they keep some of it for the populace. This very fancy brewer was inside Robert's favorite coffee shop.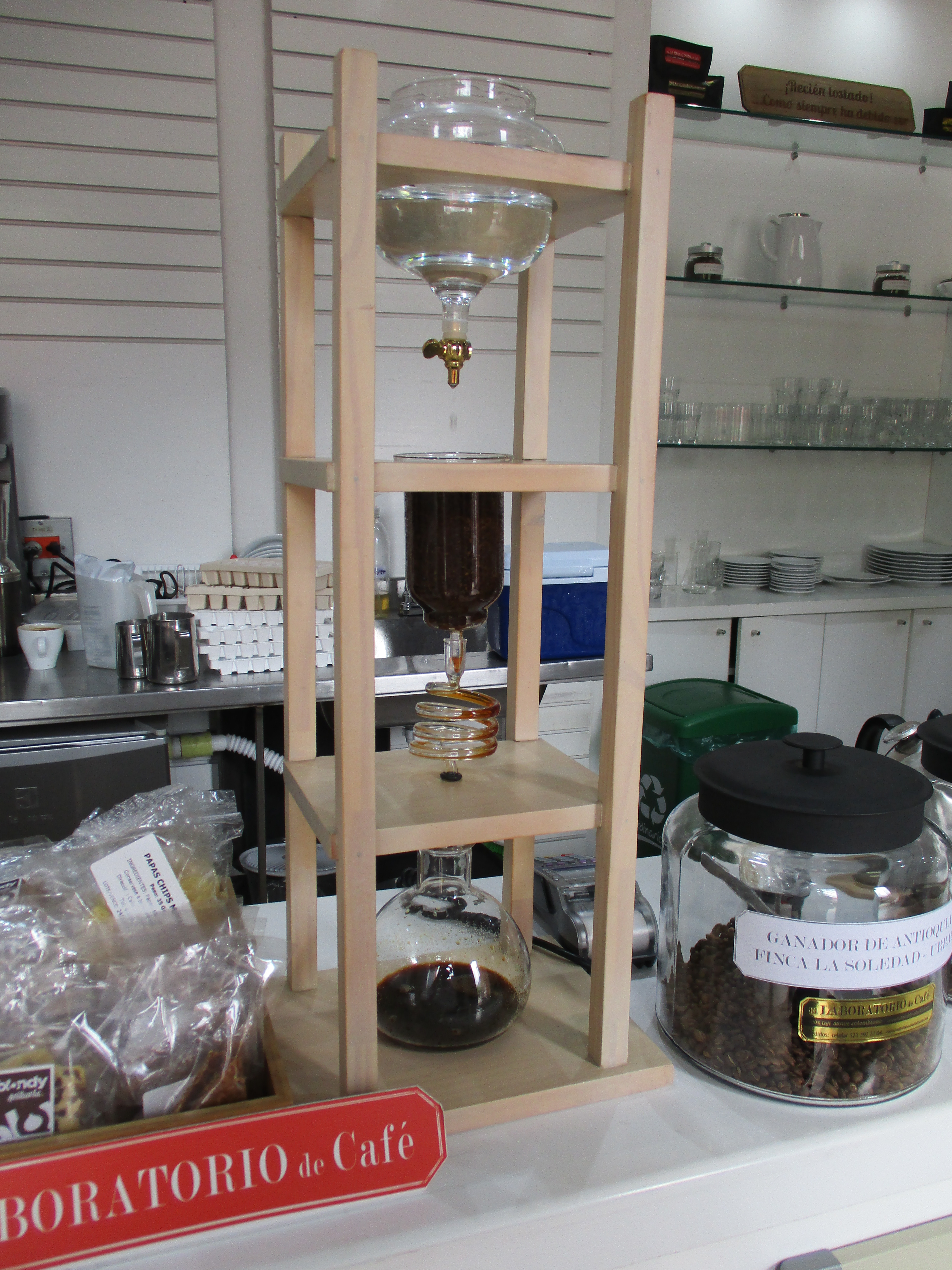 There are lots of sculptures and monuments in Medellín.  I liked a lot of them, and the ideas behind them, too.  During the Time of Trouble, the city's main market burned and the space was taken over by homeless people and drug dealers. It was a very dark and dangerous place for everyone. The government cleared it out, put the Ministry of Education in one of the remaining buildings as a source of "light", and built a forest of electric spires. We went back in the evening to see it lit up, but my camera had died, so I wasn't able to capture it for you. The photo shows about a third of the towers.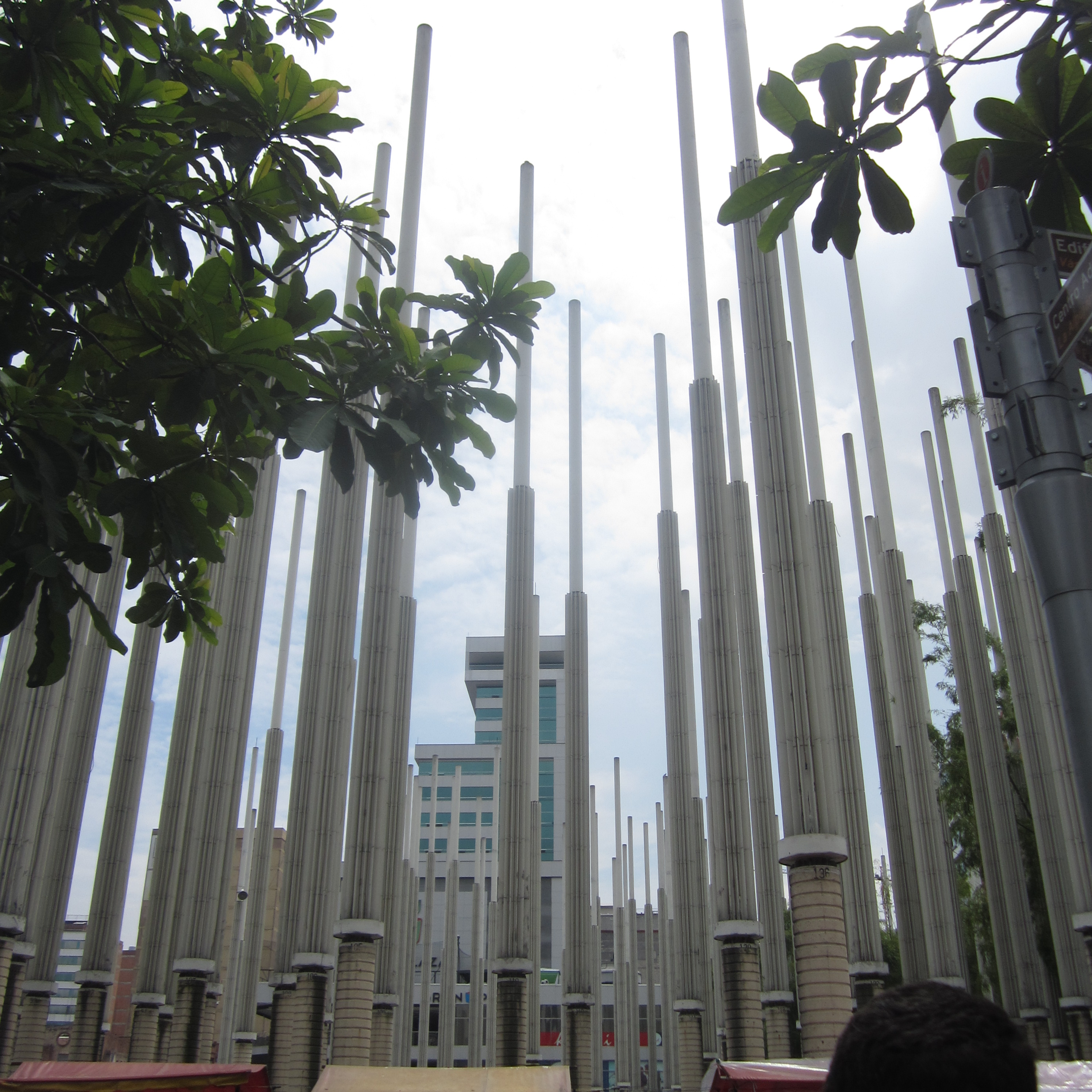 I also really liked a HUGE scythe-shaped statue of the history of the city. It all made sense, with scenes showing the building of the railroad and Spanish gold-miners and stuff like that, but I didn't know what the monster at the very top (to whom someone was offering a baby) was supposed to represent. It had giant chicken feet. Maribel said, "Oh, that's God." I never knew that God had chicken feet..  Interesting.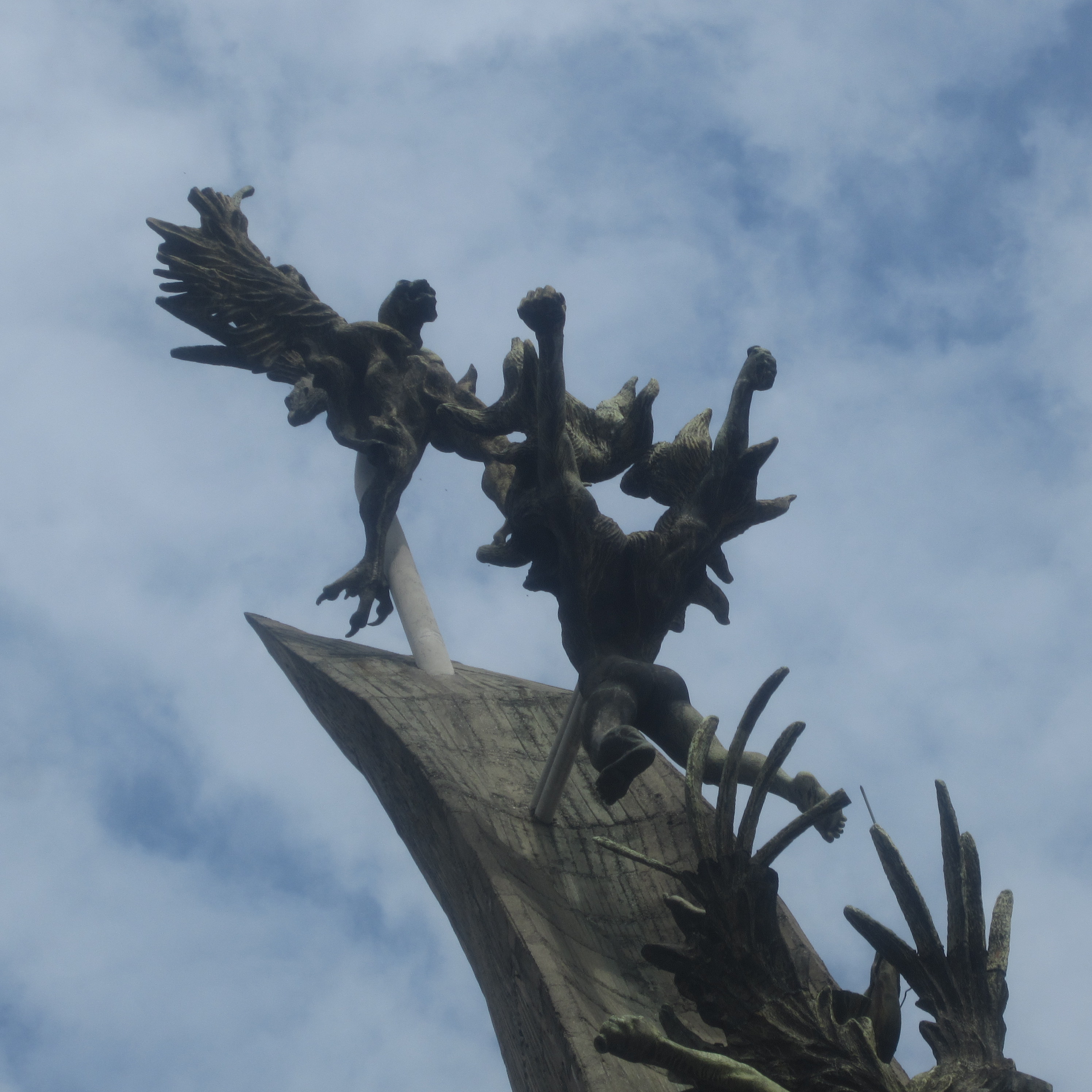 The city famously contains more than two hundred statues by native son, Fernando Botero, whose sculptures wreak havoc with proportions.   I like them because they make me feel skinny.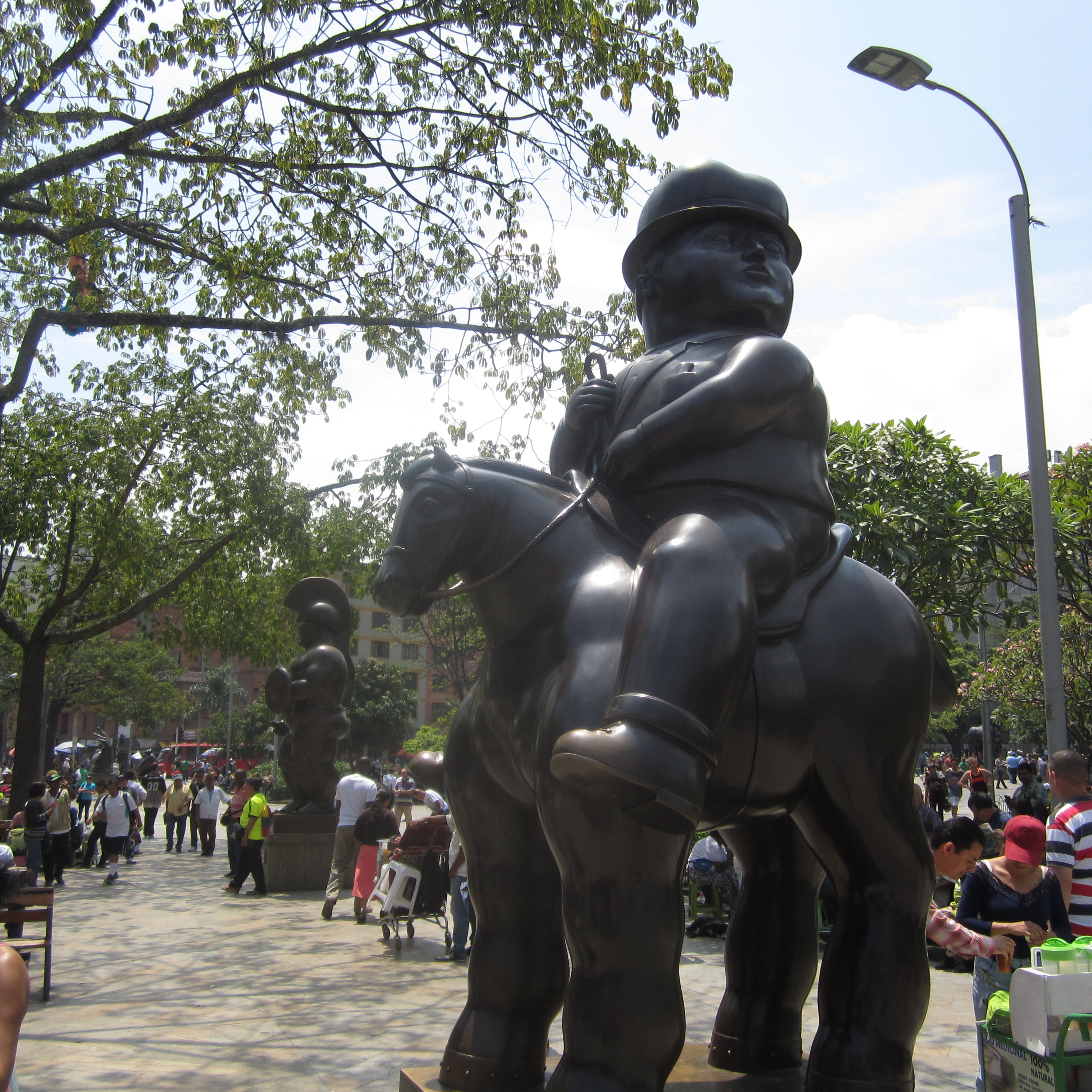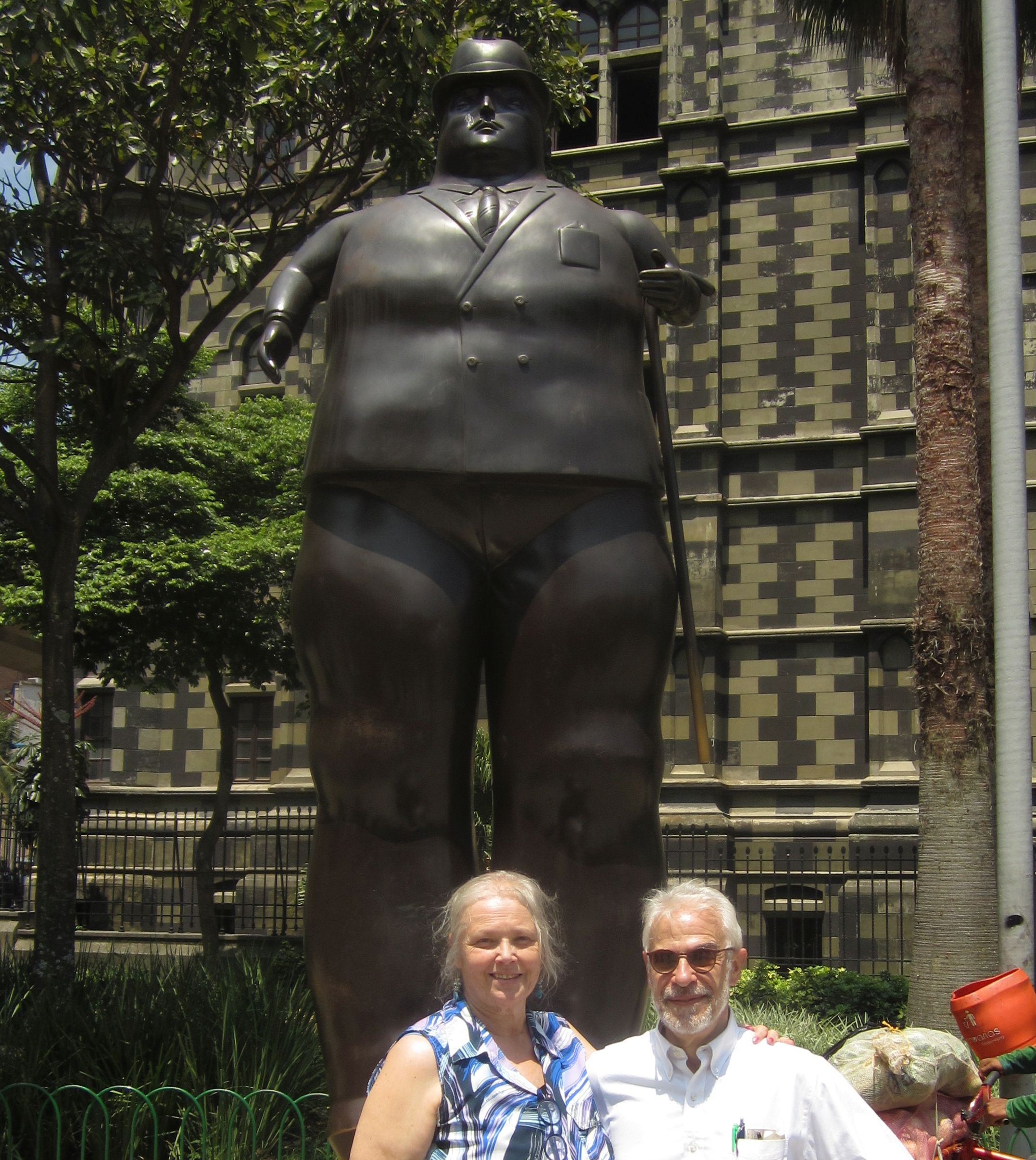 The tour ended in a more run-down part of town where, on June 10, 1995, during a concert with lots of young people and families in attendance, someone set off a bomb inside one of the Botero sculptures. Ironically, they chose the Dove of Peace. Thirty people died, including a seven-year-old and a mother of ten. No one has ever claimed responsibility for setting the bomb, which blew a huge hole in the sculpture and sent pieces of shrapnel through the metal.  The artist begged the city not to remove the dove, but to keep it there as a memorial.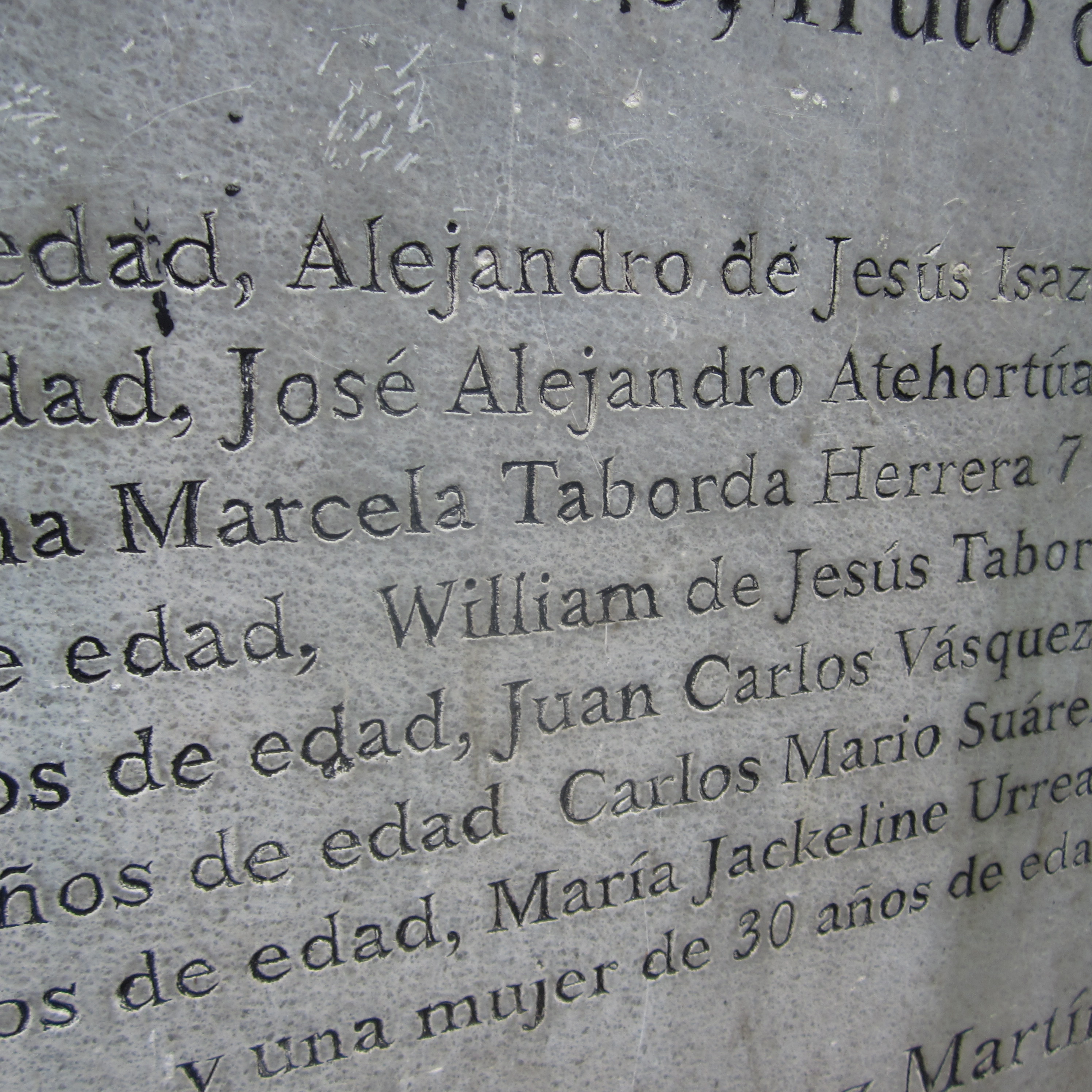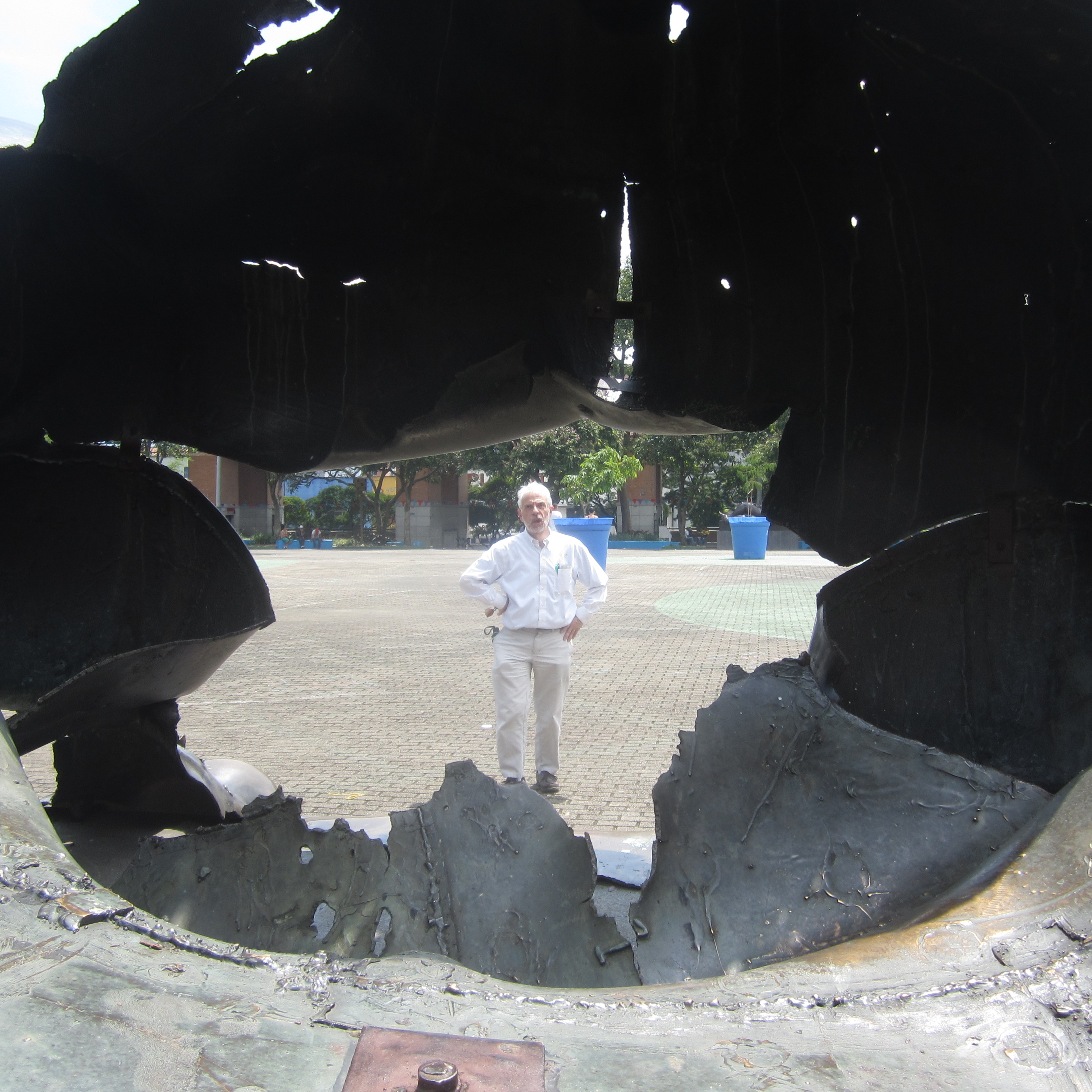 Robert, through the wreckage.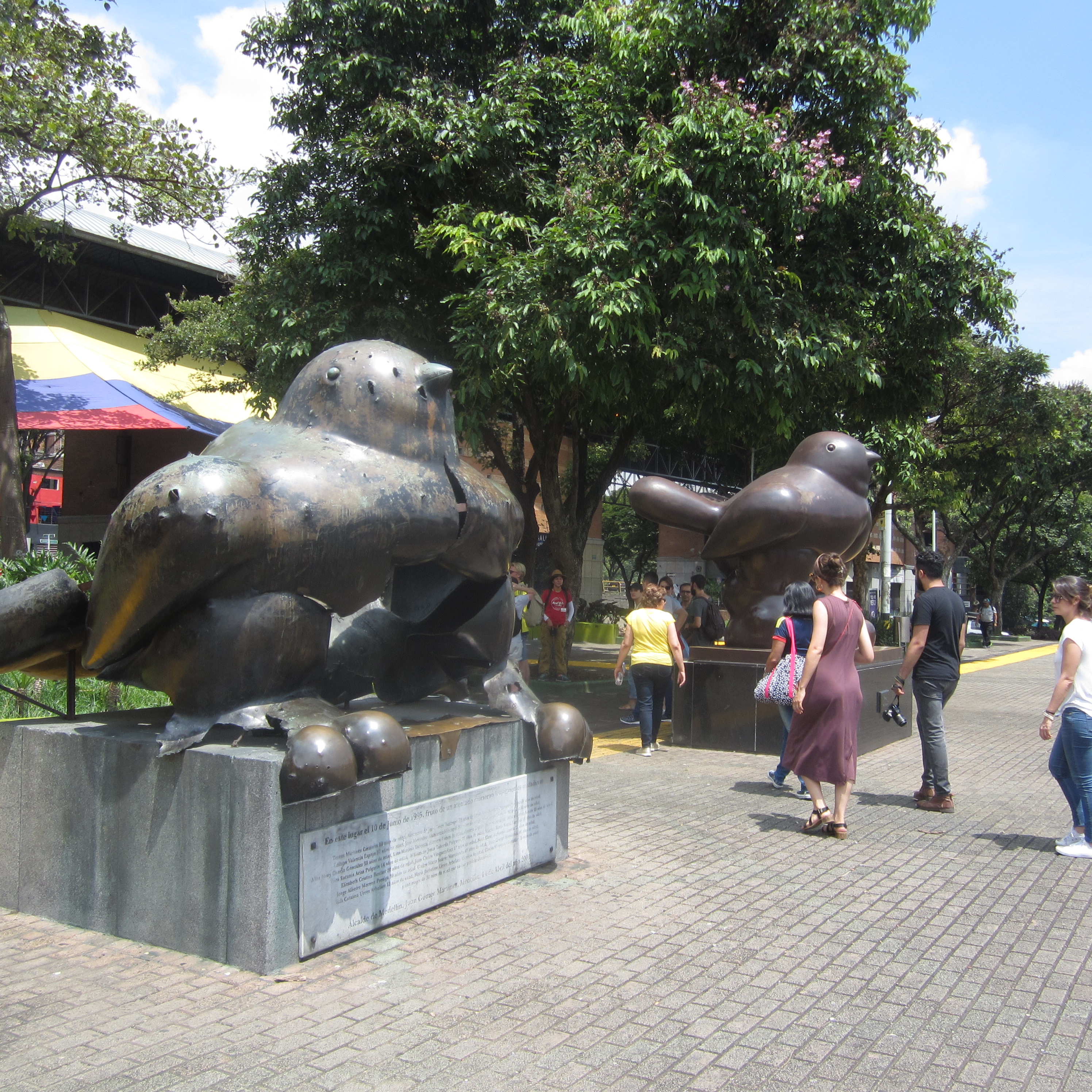 Later, Botero donated a second one.
Day Two – We Contribute to the Local Economy
People come to Medellín just to shop. On Wednesday, we spent most of the day doing that. I was able to replace my camera for a similar one with a better lens and I bought an HP laptop in a WalMart-type store called Exito!, both for about half the price I would have paid in Ecuador.  I bought cotton fabric to make blouses for myself, and books, games and beads for the kiddies at CETAP-Lucy.  Robert got lots of clothes and he was able to buy medications he needs for a lot less money.  We had fun poking around in shops in El Hueco ("The Hole") with Anna. There was a huge, milti-floored building (called "The Palace") It seemed to have nothing but stores and stores and stores filled with fashion knock-off baseball hats, sneakers and tee-shirts.  Impressive, but I hadn't bought my camera yet. Anna took me to some fancy grocery store where I was able to stock up on jasmine rice (Oh, how I've missed you!), something I can't find in Cuenca.
We had dinner again in the 61 Prado Guesthouse restaurant.  Robert had salmon, I had the best vegetarian pasta dish. Really! It's worth a taxi ride across town just to eat there!
Day Three – We Fly Through the Air

Our last day was rainy. We had planned to visit a huge park outside of the city, which contains all kinds of things like an aquarium, horse and hiking trails, bike rental, etc.  We had already enjoyed using the city's fabulous metro train system–clean and fast, and helpful for getting around.  (They will be paying for it for another 80 years.) Like Cuenca, Medellín is situated in a basin with mountains all around. At one end of the line there is the world's longest escalator–28 stories–but we didn't go that way. At the other end of the line there is a funicular to take folks up the mountain.  We looked down on rooftops for several kilometers.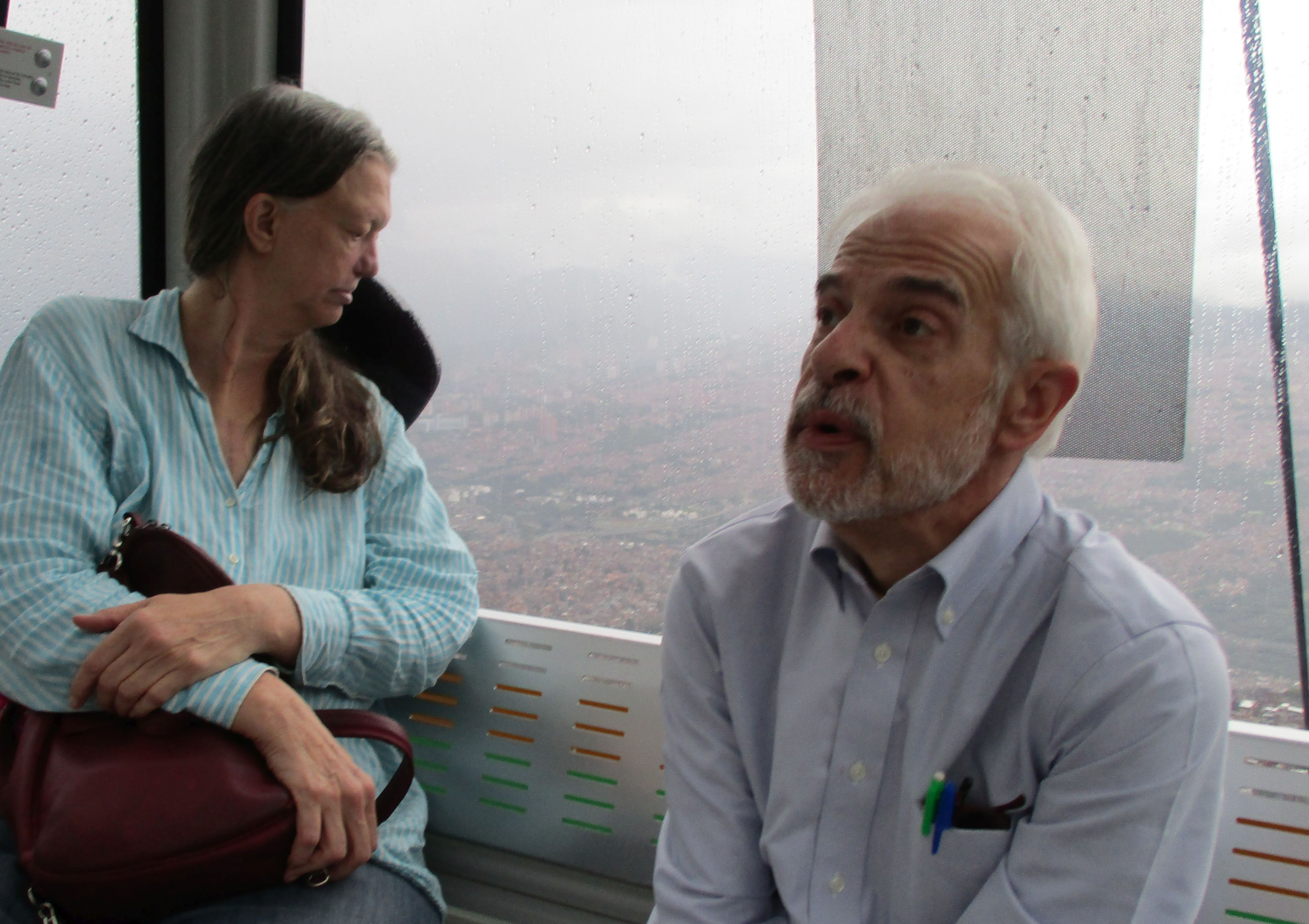 Anna looking interested. Robert looking a little green around the gills.
At the end of THAT line we paid $1.70 to take the funicular to the park. How amazing!  We traveled over TWO MOUNTAINS, fern forests, cocoa trees, and little farmhouses.  By then the rain had started in earnest and the only photos I have are of very close-up rain drops on glass.  We decided not to get off at the end, but to just continue our journey.  The funicular ride lasted more than an hour. Beats Disneyland. If you visit, this should be on your to-do list. Maybe you'll have better weather.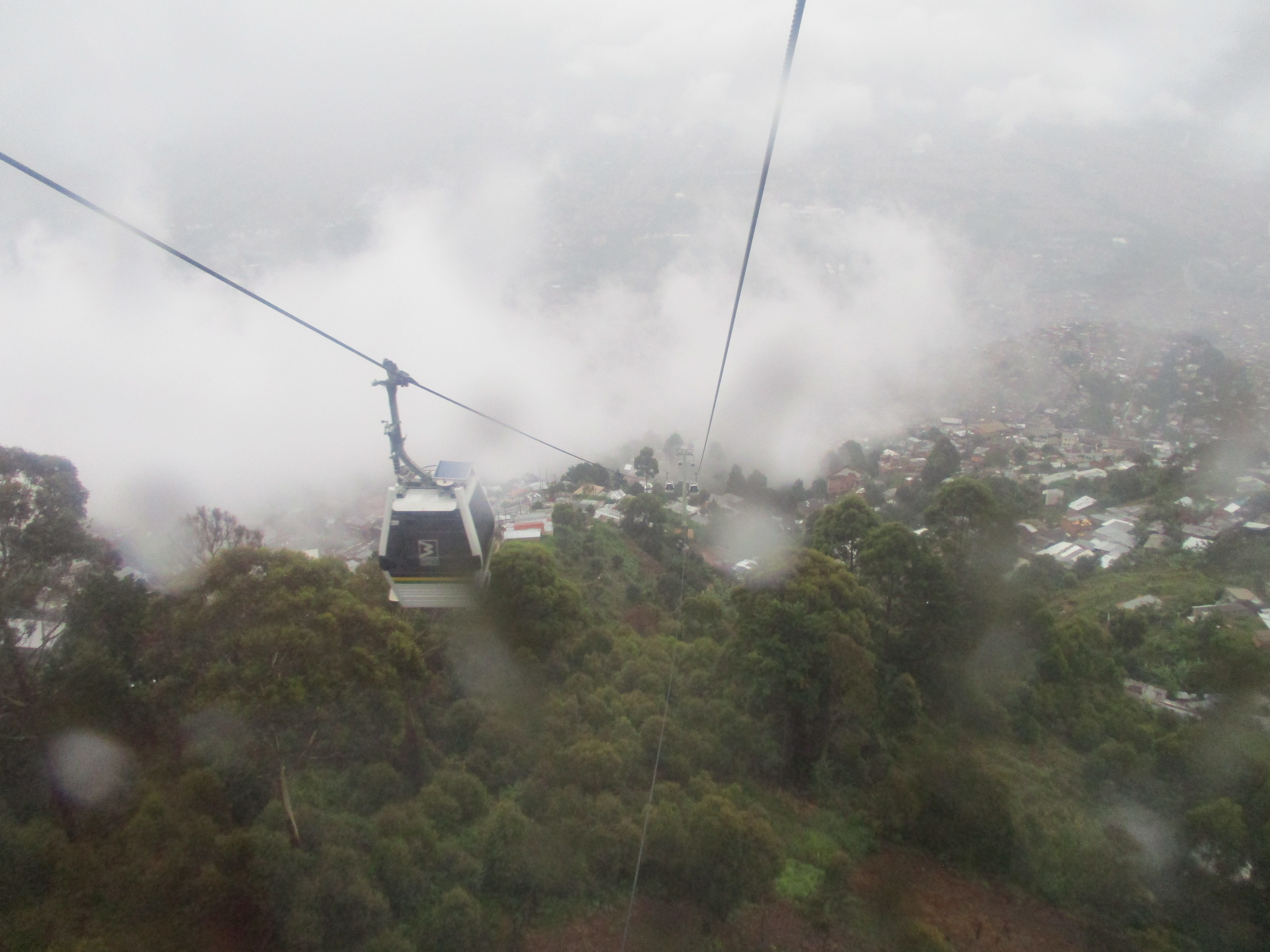 Descending through clouds…
In the evening we broke tradition and had dinner in a place in an upscale part of the city called El Poblado that has fancy shops, and supposedly, lots of expats live there.  The restaurant was called "La Basilica" and the menu was funny. The meat section was called Los Pecados de la Carne ("Sins of the Flesh") and included things like Alma en Pena ("Soul in Pain"), Sin Pecado Concebido ("Immaculate Conception") and Maldita Tenatación ("Evil Tempation").  Good food, and good company with Anna.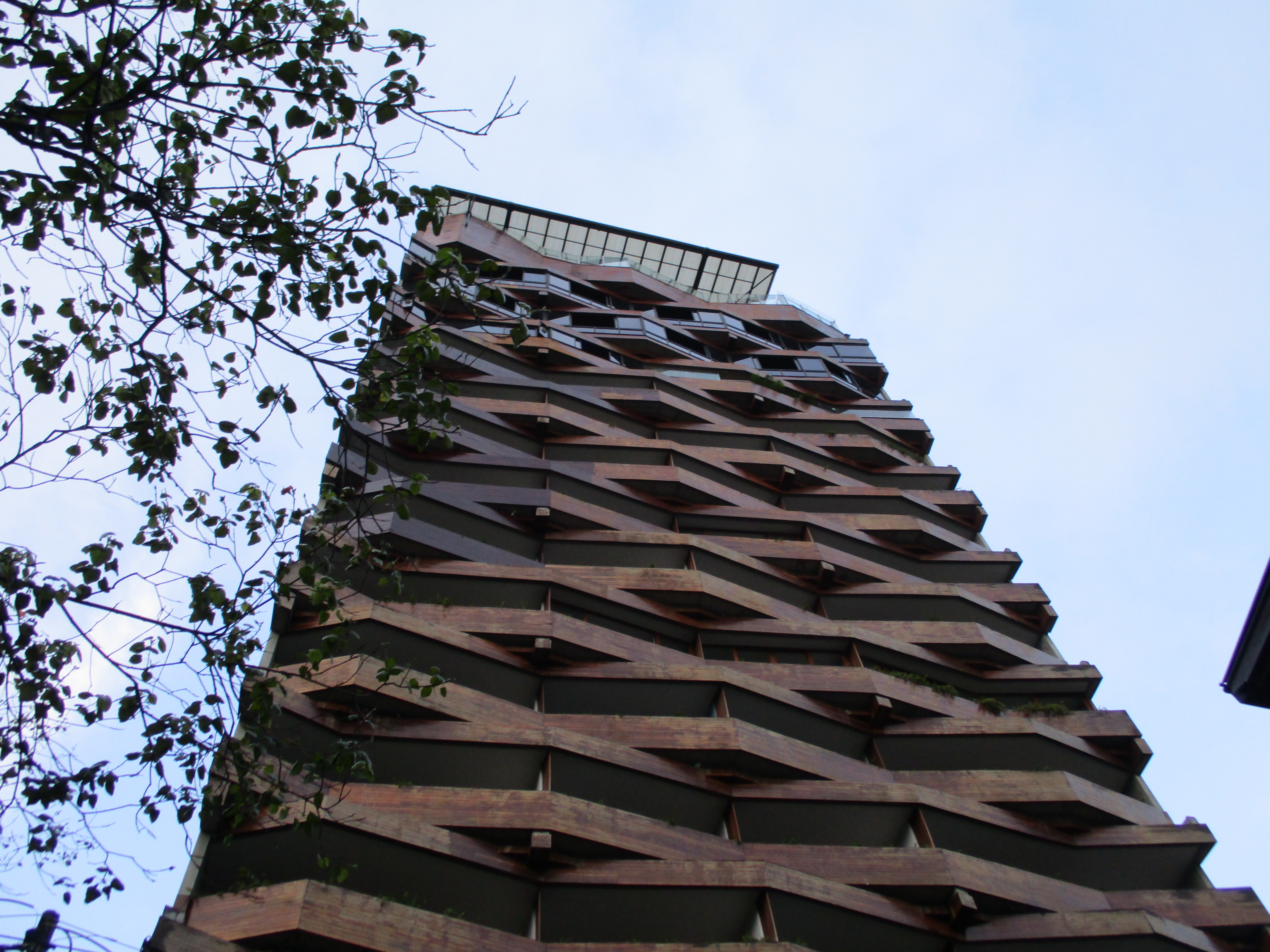 Cool architecture in El Poblado.
The next morning at seven we took off for the airport. It was good to get home. I like Medellín as a place to visit. We'd do it again in a heartbeat–there were many other thing we would have liked to have seen and done if we had had the time.  But we love our home in Cuenca!
Until next time!