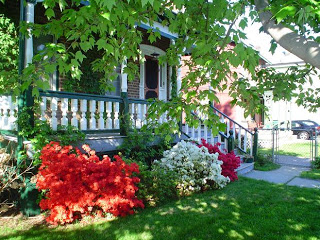 Our lovely house in Beacon, New York
When we were contemplating moving to Ecuador, my husband and I discussed what we thought we would need to be happy in our faraway home.  I said I wanted to be able to go back and visit my family every 18 months. But I hadn't been back there for two years! (And Robert hasn't been back for five…) Why? Partly because we have discovered that everything we need is here in Ecuador. And for me, it is partly because I carry a small hurt. For all the years we lived in our beautiful home in Beacon, few of my family ever visited us in spite of our many enthusiastic invitations. We had so much cool stuff to share with them!  Our beautiful Victorian home! All the history around us! Alexander Hamilton slept here!
Now in Ecuador, the cool stuff we want to share with them is EVEN COOLER! IMPOSSIBLY COOLER!  Freaking live volcanoes! Gorgeous, empty white sand beaches! Jungles full of screeching parrots and howling monkeys! Sloths and llamas! Magnificent colonial churches and architecture! Waterfalls! Shockingly gorgeous vistas! An even more beautiful house! And all our fun friends!  My small hurt exists because I feel it's time for the people who love us to prove it, by coming to see us.
But in spite of that lingering sting, I found myself packing a suitcase in early April. Why? Because I miss my friends and my recalcitrant brothers, and I wanted to attend the 30th anniversary of the Rally of Writers, a writers' conference in Michigan I was connected with from its first days.  I wanted to be able to buy black licorice and exotic Asian spices and to see new-sprung daffodils again. And my husband's shirt collars were frayed and his underwear–well, you don't really want to know about the state of his underwear–required a massive shopping trip.
In the past, I have flown into NYC, rented a car and enjoyed a nice road trip across Pennsylvania and Ohio, to Michigan, Indiana and Illinois. I stopped along the way to visit friends and checked off items on my pages-long shopping list as I traveled. But this time it made more sense to fly into Chicago and drive from there to do my business in Michigan. That was the plan, until I discovered I have misplaced my driver's license.
Guess what? You can't rent a car without one. My whole trip suddenly became much more difficult.
Still, I managed to see almost everyone I wanted to see, and to find almost everything on my shopping list (except for pink-grapefruit-flavored drink mix. What the heck happened to pink-grapefruit-flavored drink mix?). I managed to travel in taxis, on trains, and in friends' cars. Thank all of you who helped me–Liz Hogg, Marisue Mongar, Tim and  Meg Hogg, Shirley Bradley, Colleen and Brian Murphy, Lynda Krupp and Mark Habel. And Barry.
I met Barry Knister when I moved to Detroit in 1979 to attend Wayne State University Law School.  Being impoverished, I got a job as a waitress at Johnny's Dining Room, a Greek restaurant, pizza and breakfast joint near the campus, made famous in a Fabulous Furry Freak Brothers underground comic book . (Keep on Truckin'!). That job helped me pay for  groceries, and there I met customers who became life-long friends. Barry was an English professor and writer, and a fair tipper.  He invited me to parties and I cleaned his apartment for him a few times. When he met a woman named Barbara and they married and moved away, he arranged for me to move into his fabulous apartment.
I hadn't see Barry for about twenty years. But through the magic of Facebook, he contacted me a few weeks before my trip.  "I want to see you!" he said. And I would have loved to have visited him, but I didn't have a way to do it. I explained my predicament and to my amazement, he offered to drive more than 150 miles to bring me to visit friends in my old stomping grounds in Detroit.
But I had to admit I held another small hurt. Not enough of one to make me not want to see Barry–but for decades it has been a tiny, insistent throb in my heart. All because Barry had pressured me into lending him a book. It had been a gift from a great love of my life, another English professor and writer named George Lewis. George asked me to marry him when I finished law school, but within six months he withdrew his proposal. On the way to visit me, driving from California through Muncie, Indiana, he became ill . He was hospitalized and diagnosed with acute leukemia. He sent me the book from a hospital in Ithaca, New York. I received it and treasured it but hadn't even had a chance to read his inscription inside it when I gave in to Barry's pressure to lend it to him, accompanied by promises that he would return it to me soon.
Barry didn't.
In August, 1980, George Lewis died. Barry told me he had searched all his bookshelves but couldn't find the book. He apologized profusely. A year later, when Barry moved house I asked him to keep an eye out for it again, just in case it was still tucked away in one of his many bookcases. But no luck. I had to accept that I had lost a little bit of George Lewis that I had wanted so much to keep and treasure–and was left with a small but insistent hurt.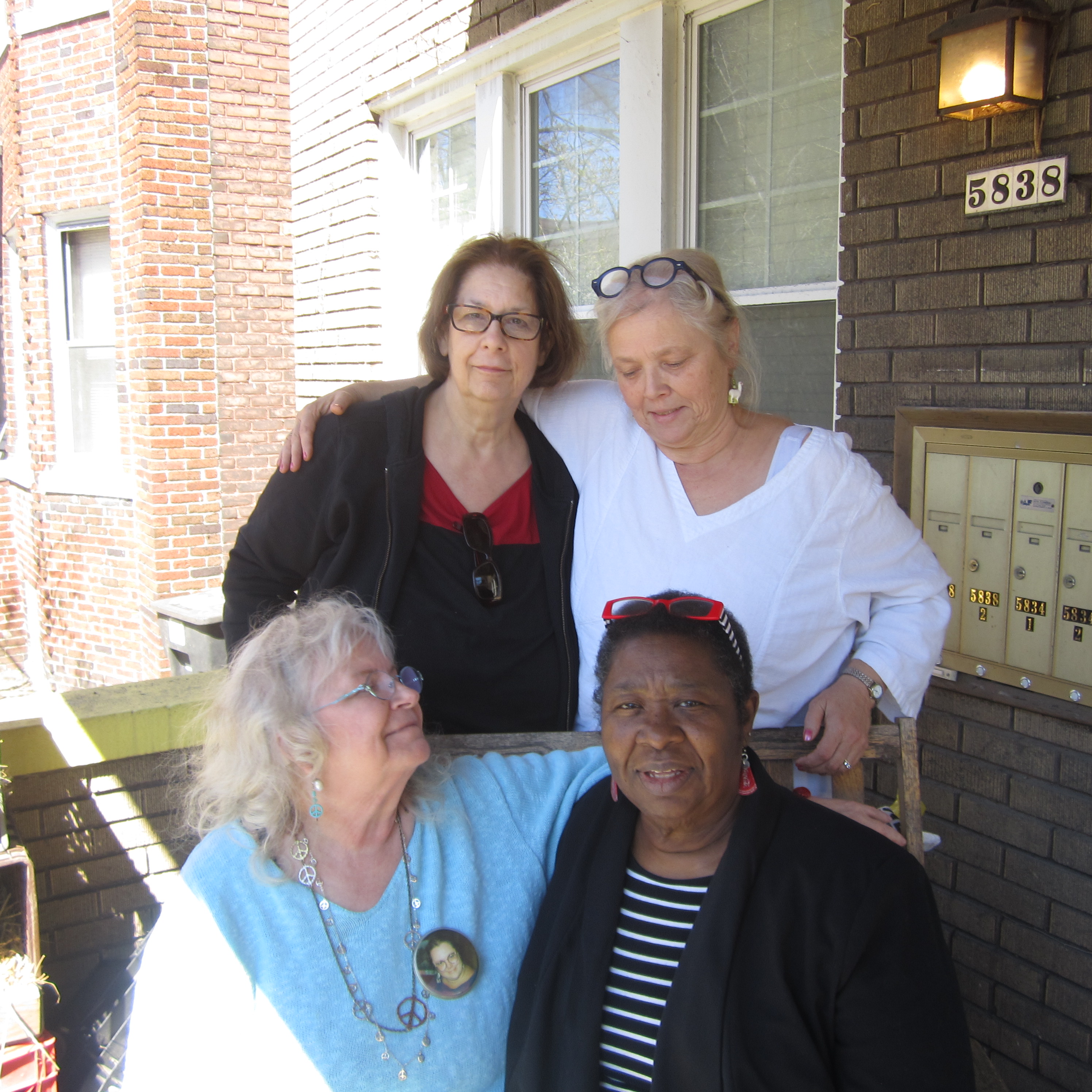 Lynda, me, Benita and Ella, on Positively Fourth Street, in the Cass Corridor, Detroit.
I took Barry up on his offer to bring me to Detroit. He also offered me a Middle-Eastern dinner and a place to sleep. After coming to get me, Barry left me to spend several hours with my cadre of best girlfriends, Benita, Ella and Lynda. After a  nice visit with them, a nice dinner and conversation with Barry and Barbara, I spent the night on their comfortable fold-out sofa bed. I awoke early and had a shower. The sofa bed was squeaky, so not wanting to wake my hosts, I sat in a chair in the little office/guest room, next to a bookcase.
Part of me didn't want to look. I knew that my little hurt would throb if I did.  But I did, anyway. And there, at eye level–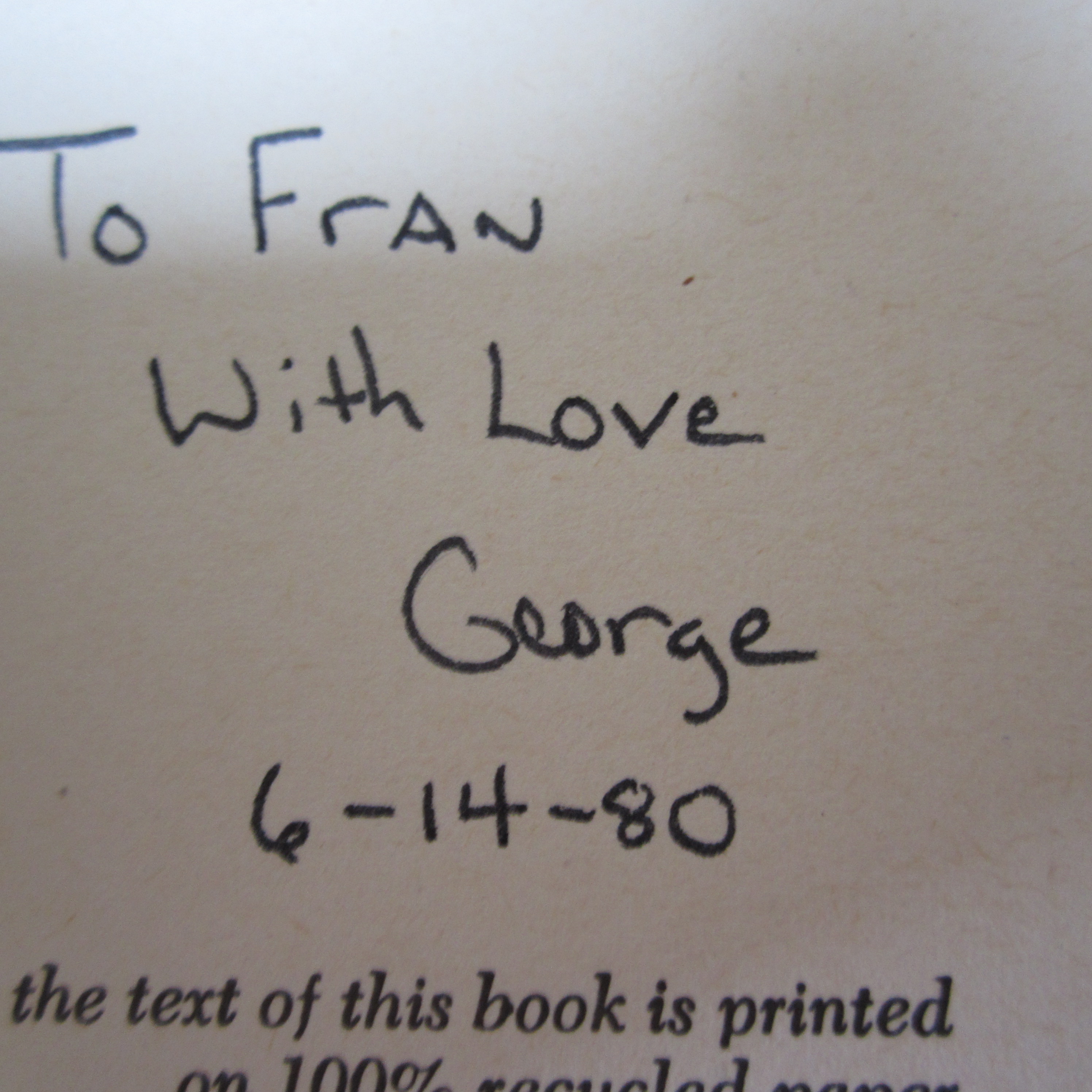 The book is called Innocent Eréndira, a collection of short stories by Gabriel García Márquez.  How funny that I ended up being a fluent Spanish speaker, living in a Spanish-speaking country! How would I have guessed that, 37 years ago?
I have held this book in my hands many times, but still I haven't read it yet. I feel the same way I did when I first held it. These are the precious last words George Lewis wanted me to read. These stories contain the things he wanted me to think about. I need to be alert. I need to be in exactly the right mood.  But rifling the pages, I found some bits of paper. They are poems I liked that I had planned to send to George. But it was already too late. Within a few weeks of this gift, George was gone.
George was handsome. He looked a lot like the actor, Kevin Klein. He was tall and fit. He was smart and talented and successful. He was spiritual. He was from Austin, Texas and he had a beautiful accent–slow and sexy. I loved the way he said "Frances." I don't have a photograph of him. I only have this book. This last inscription.  The thing that was lost has been found. My small hurt has been salved.